False southern accents, channeling the preacher at the Stellar Awards, and now attempting to be black for the sake of rummaging up votes, Hillary responds oddly to the question, "What is one thing you always carry in your purse?"
Her answer even floored those in the interview as she responded with, "Hot sauce."
Charlamange Tha God told Hillary, "Now listen, I want you to know that people are going to see this and say, 'She's pandering to black people.'"
"Okay," Clinton said. "Is it working? No, but seriously. I've been eating a lot of hot sauce. Raw peppers and hot sauce. I think it keeps my immune system strong. Hot sauce is good for you."
Her failed attempts at fitting in is disturbing, as it is undignified to pretend to be what one is not.  Hypocrisy and manipulation are certainly words to describe the various ways in which this woman has tried to garner support and votes.
Hillary Clinton must have either not seen or not cared about the opening sketch on Saturday Night Live this weekend poking fun at her habit of pandering to African Americans, because during an appearance on Power 105.1's The Breakfast Club this morning she seemed thirsty as ever for the black vote. When host Angela Yee asked the presidential candidate, "What's something that you always carry with you?" Clinton didn't stop to think before shooting back "hot sauce" — an obvious-sounding reference to Beyonce's "Formation."
Even after getting called out for pandering Clinton clearly had no farts to give, responding, "Okay. Is it working?"
Truth and Action shared, "It's one of those so strange moments when Hillary morphs into one of the ladies straight out of "Fried Green Tomatoes".   What is also entertaining, is at the time Hillary forgets which accent (or crowd) she is speaking to-so she waffles back and forth between a southern and a strange mid-west accent."
She claimed to fit in in this house of the gospel, saying that she's one of many who needs it. Yeah, she's got that right. However, she's got a lot to atone for. Most politicians have skeletons in their closets. Hillary has an entire graveyard.

This isn't the first time Hillary has pandered to an audience. At a past campaign stop in South Carolina, she actually started talking with a Southern accent, and yes, she did make herself look stupid, which she doesn't actually have to try hard to do anymore, snickered Truth and Action.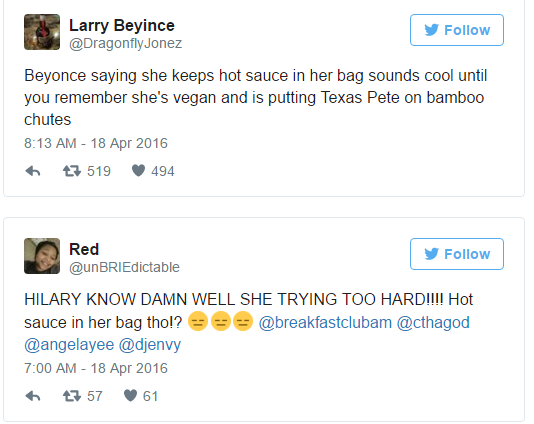 https://www.youtube.com/watch?v=q_J_W4XsI5M
Source: Daily Caller Truth and Action